Eastnor Castle Wedding by David Liebst Photography
It was incredible to be Dina and Nur's Eastnor Castle Wedding Photographer for the day! I always love working at this beautiful wedding venue in Herefordshire. Being autumn the fire places were all lit, and the atmosphere inside the castle was just amazing. The couple had decided on an intimate wedding, choosing to share their day with 25 of their closest friends and family. 
AS soon as I saw Dina magnificent wedding dress I knew we were going to be doing some photographs on the Stair case as Dina made her way downstairs to the ceremony room. The castle is dark and full of atmosphere – something I really wanted to preserve in the pictures we took inside, and so was very careful to be subtle with my use of flash. Dina stole the show easily, looking like a princess as she walked down the stairs to meet Nur
The couple were married by an imam in an Islamic ceremony which was my first as a wedding photographer. In just 8 minutes a very happy and excited Dina and Nur made their way out of the Gothic Drawing Room at Eastnor Castle as husband and wife!
After the wedding ceremony we stepped away for some portraits of the happy couple, who must have looked like movie stars walking around the stunning grounds with 2 photographers and 2 videographers!
The rest of the evening for Dina and Nur was spent enjoying the spectacular Eastnor Castle with their nearest and dearest. Dina and Nur were both such a pleasure to spend the day with and I wish them all the best in their future!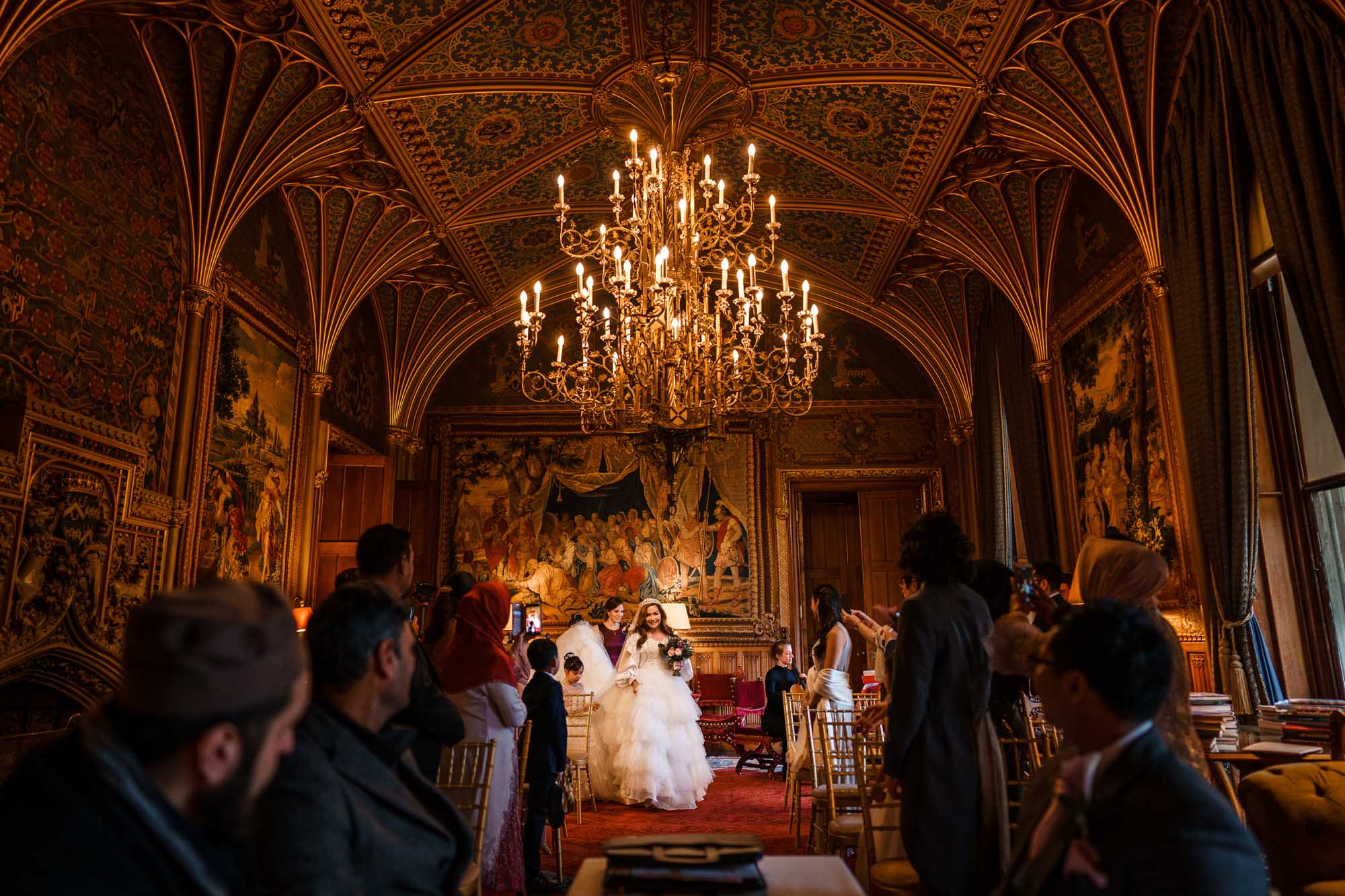 A quick shout out to Trever and Jahan from White Blossom Films, just awesome to work with and super talented! Also many thanks to my buddy Che Birch Hayes for second shooting for me!
Thanks also to:
The amazing : Eastnor Castle
The Super Talented : Valerie at The Big Hair Day
 Eastnor Castle | Luxury Herefordshire Wedding Venue
If you are getting married at Eastnor Castle, and you are looking for your Eastnor Castle Wedding Photographer, you can learn more about my pricing here, and you can get in touch for a chat here.